Welcome to ElectriciansForums.net - The American Electrical Advice Forum
Head straight to the main forums to chat by click here: &nbsp
American Electrical Advice Forum
So I'm refurbishing/replacing my kitchen and the existing sockets are largely where I want them so I thought it would be a case of replacing like for like. How wrong was I. This first pic was taken just above the hob.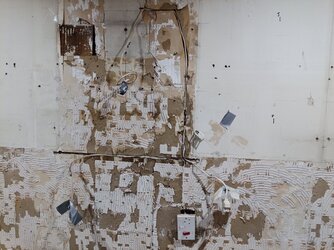 As a non spark even I can see significant problems: Connector blocks (not even taped) stuffed into the wall, long lengths of cores into tile-clad plasterboard. Socket almost directly above hob (was gas when I moved in). Cooker circuit used not only for cooker but for fan and worktop lights. Cable veering off to the left before entering cooker hood.
And that last one brings me to my main question. Is the attached second pic showing two proposed routes (in green and blue) within zones? Cutting right into the ceiling would be a pain as have just plastered and painted it (silly me) but also joists don't run favourably.
Seems to me that green and blue are ONLY acceptable if the new cooker extractor socket creates a zone itself but the socket would be "hidden" inside cupboard. But if it doesn't create a zone then no routing of cable would be valid? There will be wall cupboards so worst case perhaps I could just clip direct to the wall above them? Would they need trunking?