-
Esteemed
Arms
Supporter
Welcome to ElectriciansForums.net - The American Electrical Advice Forum
Head straight to the main forums to chat by click here: &nbsp
American Electrical Advice Forum
I was on the Wirral so my gaffer asked if I could swing by a pub as the landlord doesn't think the water tank is properly supported.
So I goes into the abandoned flat and ogle the surface conduit, bakerlite switches and wooden pattresses.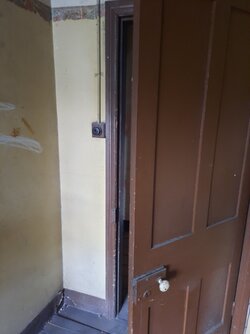 Then remembered the water tank.
Stuck my head through a hole in the ceiling and saw this little treasure.
Scouse plumber sense of humour eh