Welcome to ElectriciansForums.net - The American Electrical Advice Forum
Head straight to the main forums to chat by click here: &nbsp
American Electrical Advice Forum
I'm doing another EICR, I still don't like doing them, and still seem to attract the weird/unusual/uncommon stuff.
This time I'm faced with aluminium armoured cables.
My question is, does anyone have datasheets, or could anyone point me in the right direction for finding information on these cables. I'm specifically looking for anything to help identify the conductor size, CCC, VD and armour CSA/suitability as CPC and/or main bonding.
There are two different types of aluminium armoured cable, my instincts tell me one is older than the other.
The first is a 3core with round solid aluminium cores, each core is insulated with black insulation printed with numbers to identify the cores. I'm not sure what the insulation material is other than being a plastic that doesn't quite feel like a normal PVC insulation.
The armour is aluminium strands with a rectangular ish cross section.
The outer sheath is black shiny plastic much like you find on older SWA, it's embossed with various writing (stupidly I didn't write down the information, I'll do that tomorrow when I'm back there, but I'm pretty sure there wasn't anything specific to identifying the type or size of cable.
The second type of cable is similar, but my instincts tell me it is more modern, this cable has the same appearance to the outer sheath and the same rectangular cross section aluminium armour.
The cores are solid aluminum sectoral (I think that's the right term, they have a wedge shaped cross section) and are insulated with coloured insulation (red, yellow, blue, black) that looks and feels like the insulation you find on older SWA.
Again the outer sheath is embossed but I haven't yet made out any useful information on it.
I'll get some better pictures and post them tomorrow, but these just about show the cores.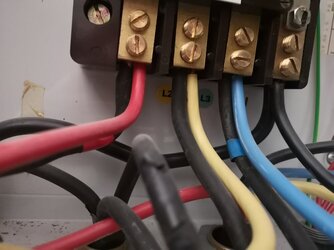 And for a bonus question, what do people think about coding aluminium armour terminated in a brass SWA gland with no obvious signs of corrosion?
Also aluminium and copper core terminated together in brass/plated brass terminals?
My initial reaction is C3 for both.