Welcome to ElectriciansForums.net - The American Electrical Advice Forum
Head straight to the main forums to chat by click here: &nbsp
American Electrical Advice Forum
Hi folks.
Wanting to do some work on a lighting circuit. Need to change to 30mA protection, currently 100mA S type...
I know the Starbreaker boards can be configured differently with their busbars, but how! See piccy. Is there anyway to introduce another 30mA rccb onto this board, maybe moving the 100mA along to the left...I had a brief look underneath the breakers and the bus bar looks to be continuous all the way across.. As I understand it you can get different sized bus bars but never had to change them before...
I had a look online for info but found little of any use... Any pointers welcomed..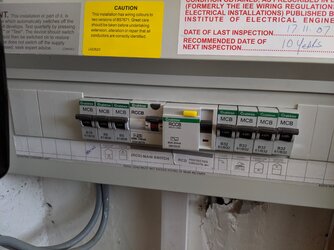 Thanking you..