Welcome to ElectriciansForums.net - The American Electrical Advice Forum
Head straight to the main forums to chat by click here: &nbsp
American Electrical Advice Forum
One of my friends has recently moved down to Dorset (from London). Had an EICR carried out by a sparks down there as it's a bit out of my catchment area (Kent..).
He asked me to have a look at said report.
There are several things that annoy/make me laugh about this report that was done.
Let's see if you guys notice the same things.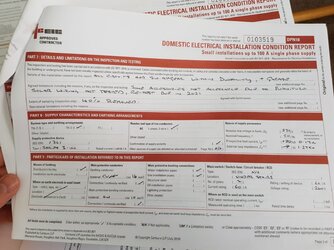 Edit - When posting such things, please remove personally identifiable information. I have removed the offending image which contained the test results and the name of the person who carried out the inspection. Please do not post it again. Thanks SC
Last edited by a moderator: